Kitchen Equipments - All Type (Hotel / Restaurant / Resort / Bakery / Industrial Canteen / Mess / Catering / College / Hospital / Fast Food / Residential / Commercial)
We are Manufacturer, Supplier, Exporter, Trader of Kitchen Equipments, Kitchen Trolleys, Kitchen Utility Trolleys, Kitchen Dining Tables (Kitchen Dining Table Sets), Kitchen Dining Chairs (Kitchen Dining Chair Sets), Kitchen Service Tables, Kitchen Round Tables, Kitchen Hood Exhaust Systems, Kitchen Exhaust Chimneys, Kitchen Display Counters, Snacks Display Counters, Food Pickup Counters, Kitchen Cash Counters, Kitchenwares, Kitchen Furniture, Kitchen Plate Trolleys, Kitchen Sinks, Single Sink Units, Kitchen Sink Units, Masala Utility Trolleys (Masala Utility Kitchen Trolleys), Dosa Bhatti, Dosa Plates, Bain Marie Display Counters, Hot Case Service Counters, Cold Display Service Counters, Hot And Cold Food Display Cases, Chaat Counters, SS (Stainless Steel) Onion Storage Trolleys, SS (Stainless Steel) Potato Storage Trolleys, Barbeque Grills (Barbecue Grills), Kitchen Storage Racks, Vegetable Storage Trolleys, Fruits Storage Trolleys, Work Tables, Kitchen Fryers, Dish Plate Racks, Kitchen Dish Racks, Kitchen Plate Racks, Dish Landing Tables, Vada Pav Service Counters, Panipuri Counters, Golgappa Counters, Bhel Counters, Tea Counters, Chicken Shawarma Counters, Kitchen Pot Racks, Washable Plate Racks, Kitchen Gas Stoves, Kitchen Gas Stoves With Cash Counters, Electric Cooking Gas Stoves, Single (1 / One) / Double (2 / Two) / 3 (Three) Burner Gas Stoves, Chapati Puffers, Chapati Plates With Puffers, Used Dosa Bhatti, Kitchen Water Coolers, 4 (Four) Door Vertical Refrigerators / Fridge, Table Top Fridger With Counter, Hotel / Restaurant / Resort / Bakery / Industrial Canteen / College Canteen / Hospital Canteen / Mess / Catering / Fast Food / Residential / Commercial Kitchen Equipments from Chikhali, Pune, Maharashtra, India.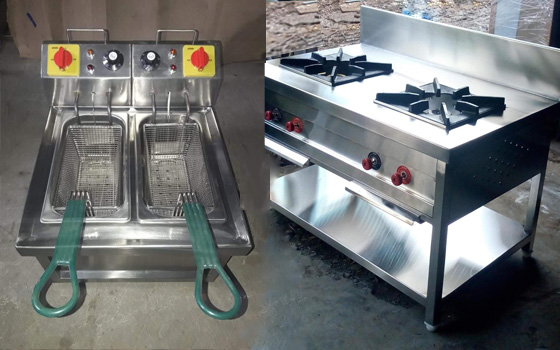 SANJANA KITCHEN EQUIPMENTS started in 2020. Since Company had grown multi field and has executed several prestigious commercial kitchen Projects in many sectors. Since 2020, we provide best services to our all customers. Our Rand of equipment will satisfy most of your needs. we provide services to all Sectors. We manufacturer Kitchen Equipments like Kitchen Tables, Kitchen Trolleys, Catering Equipments, Refrigeration Equipment, Bakery Equipments etc. We offer products are widely used in Hotel, Restaurants, College, Hospitals, Bakerys etc.